Blog for the Silicon Valley Chapter of F-100 Elite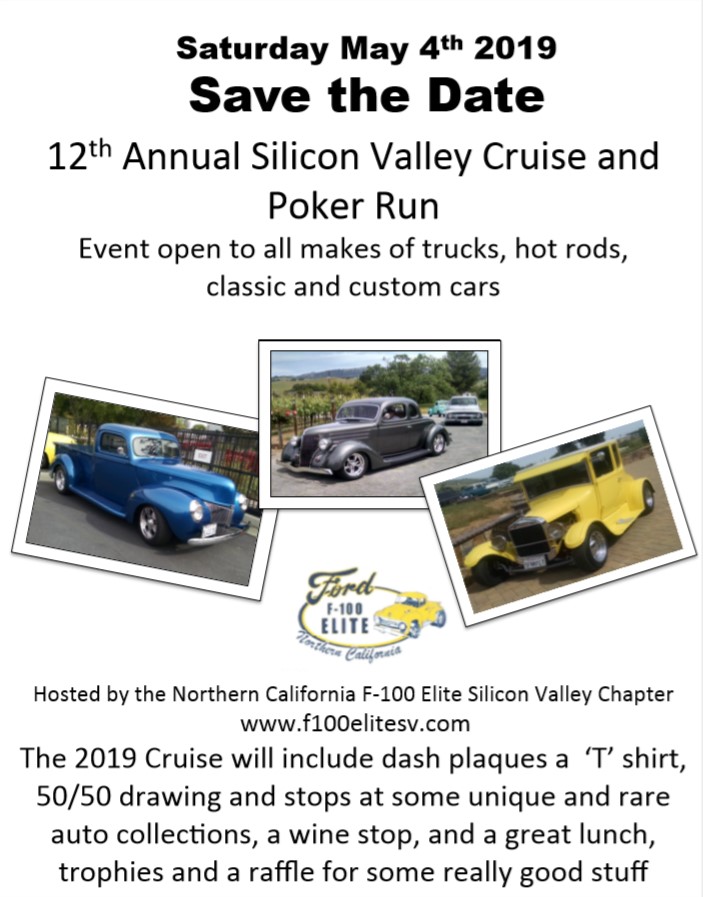 It's time to get ready for our 12th annual Silicon Valley Cruise and Poker Run! We have been working hard to make sure this year's event is fun for car fanatics and the whole family.  Registration begins at 8:00 AM at Canepa's Automobile Museum and the cruise will start at 9:00 AM. For more information contact Vern at 408-568-3734 or Jon at 408-761-2950. >>> 
https://www.f100elitesv.com/2019%20SV%20Cruise%20Registration%20form.pdf
" target="_blank">entry form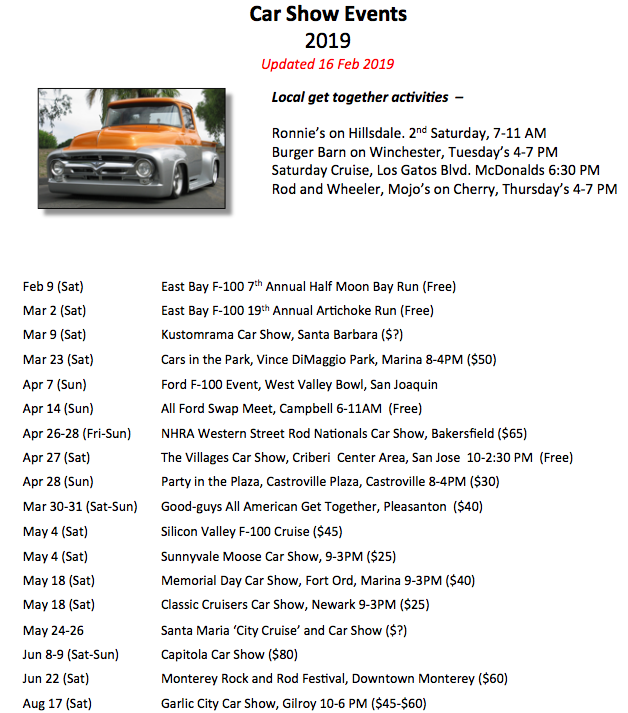 Special thanks to Vern for creating this great list of car shows for the first half of 2019. We are especially looking forward to the F100 Elite events!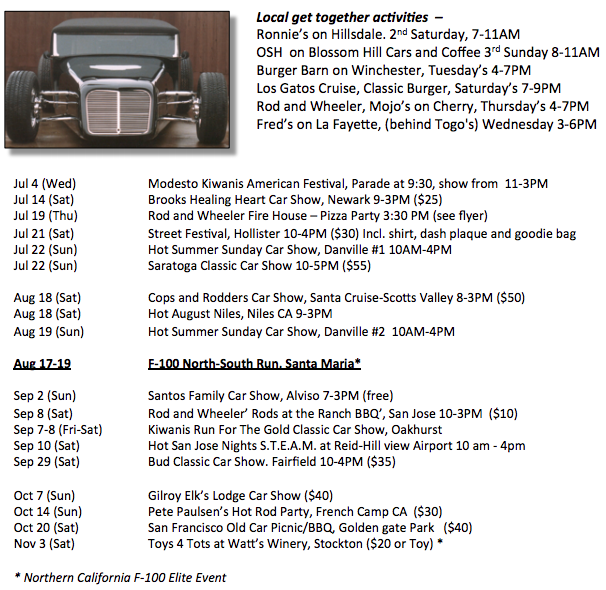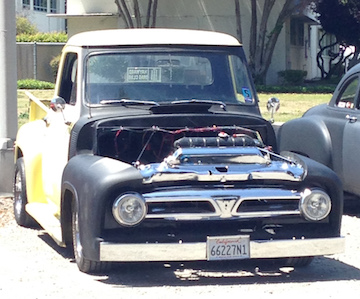 I originally bought my '54 F-100 in 1978 to tow my '57 Chevy to various drag strips. When I bought, it had a camper shell, was painted Ford Blue, had a 302, 9 inch rear end, and a camper shell. I think I paid $1,700 for it. It was an OK hauler, but suffered from front end shimmy, not great brakes, and heavy standard steering.
My initial work on the truck was to solve those problems. The number one problem was the shimmy, which is no fun at 65 MPH with 4,500 of race car and trailer behind you. I looked around and found all kinds of solutions that ranged from welding a piece of angle iron or sliding a metal sleeve over the stock rod and then welding it is place. A drag racing friend came up with what I think is the best solution, if you're going to stick with the shock suspension. He suggested a 1" heavy (1/4" wall) and weld in right and left threaded rod ends. I did it and could take my hands off the wheel at 75 with the race car in tow and all stayed straight.
The next were all old school, Mustang power steering, early T-bird power brake booster. The net results were OK, but not what I really wanted. At that time I started thinking about making some major changes in front suspension.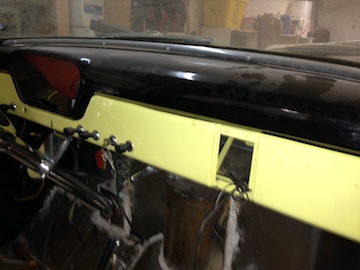 My next steps were all cosmetic. I decided I wanted to paint the truck to match the race car, which included disassembly, body work, paint and re-assembly. I looked around and got various bids. They ranged from $2,500 to $20,000. The $2,500 was from a young man starting his own body shop business. He showed me his car, which he had done and I was really impressed. I realized from the beginning he was too low on the price. Well it took twice as long as the original quoted time, but the end was somewhat a story in itself.
One day I get a call from a young man that worked at the shop to tell me the landlord was going to pad lock the shop in two days. My truck was painted, but completely disassembled. Well I grabbed my car trailer and went over. The basic cab had not been removed, but everything else had been. It took four trips to bring all the pieces home. Now I had a newly painted unassembled truck that I did not disassemble. The fun really began.
Thank God Preston Ledbetter was still in San Jose. I got to know him really well as I brought in parts and asked "what the hell is this?". He also gave me drawings and advise that was of huge value. About four months later it was back together. During this time, I had gone through the 302 and gave it a little help on the HP end. My first long haul with the freshly assembled F-100 was to The Strip on The Strip (Vegas). The engine pulled the Tehachapi pass with no strain. That had not been the case previously.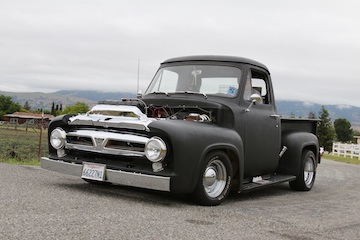 Then a major change happened, My son had turned seven and I had bought a brand new '00 F-150. My son decided he wanted to go quartermidget racing. I decided it was time to put a new front clip under the F-100. That began a series Oh Shit comments. I decided a Chevy 350 was the best small block size, mileage, HP combination. Next I found a '74 Firebird Formula 400 less motor and trans, but a fully rebuilt front subframe with new rotors, pads, and neoprene inserts, for all of $500. First step was selling the Firebird hood, formula 400 hood with dual scoops, for $1,100. I started to locate someone that had done this kind of combination. Asking around I was pointed towards the same person by three people. This is all leading up to why a Camero/Firebird subframe is a terrible choice. I looked around and found a guy that had done a number of front clip swaps on Ford and Chevy trucks. I got the tuck home and went to drop the 350 in when I found the heads hit the firewall a good two to three inches before the engine was over the mounts.
The next step became finding and installing a dropped firewall. Of course that meant cutting out half the floor and all of the firewall. Thanks for a LOT of help from my good friend, Jon Hylbert. In a matter of two weeks we had the old metal out and the new metal in. Finally ready to drop the engine in. In it went except when I looked at the installation of the distributor, I realized the firewall lined up exactly over the opening for the distributor in the engine. So out came the engine and some head scratching began, Another friend that has a sheet metal shop made me half of an very large coffee can. A bit more trimming and wow, I had a spot for the distributor. The rest for the build ran into the normal build issue with the exception of one pretty major item Had the truck running and took it to be aligned, and low and behold it has 10* of negative caster. Not good, not good at all. Turns out when the guy who installed the sub-frame, it ended up tilting down. I have a solution, but it is expensive and a bit complicates. In the meantime I put the absolute maximum number of shims in the front of the upper A frame and none in the rear. At least it is steerable.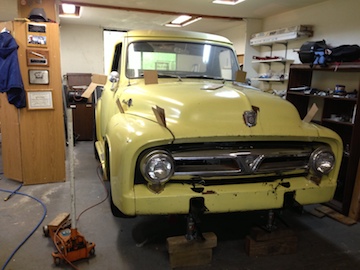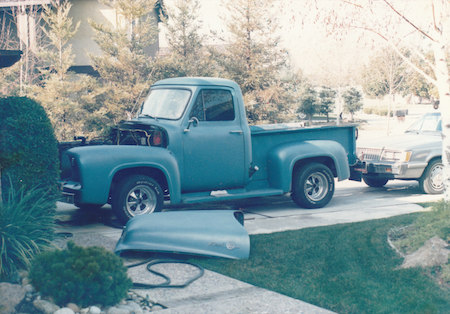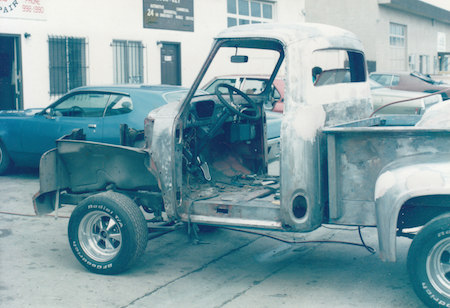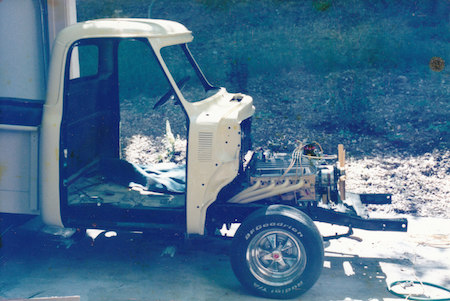 That's all folks. At least for now! 
-Don Rector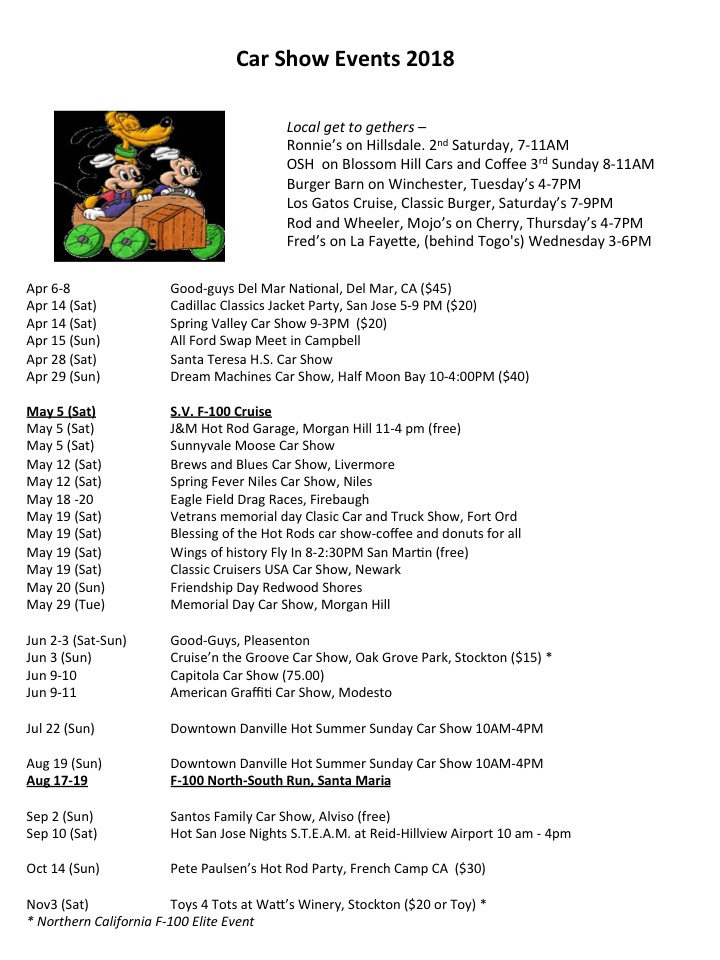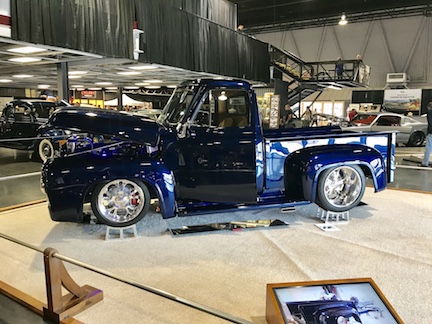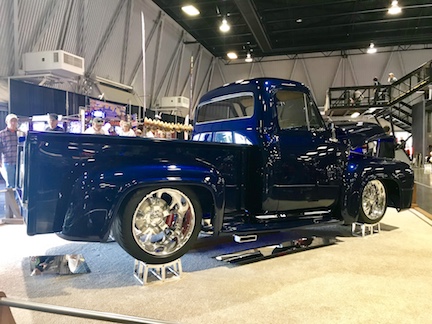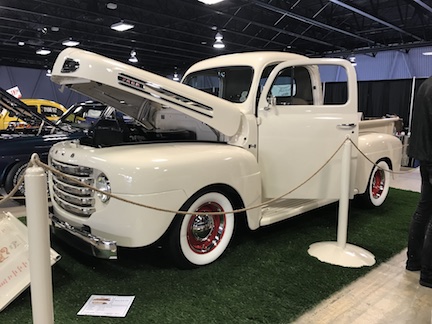 On Friday 2/16 I drove up to the Sacramento car show at Cal Expo. While the show was a little disappointing there were some very beautiful cars. I was only able to find a couple examples of ford pick up trucks to share with the group.There were approximately 500 cars at the show in total, many of them were customs, low riders and at the suede pavilion the early build cars. The GNRS winner was on display and worth the drive to Sacramento itself. We met some shop owners in the Sacramento area with rates in the $80-$85 per hour range. A little relief from the $100-$120 range I see in our area. Oh and I would say stay away from the funnel cake unless you have a cast iron stomach
-Larry Squarcia 
The 48th Annual North South Run Entry Form is now available!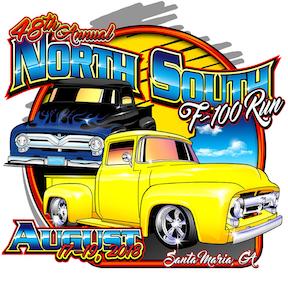 Ford F-100 Elite of Northern California & Pickups Limited of Southern California once again present the oldest running event in the world that highlights the 1953 through 1956 Ford F-100 pickups and panels. This edition marks 48 continuous years for this popular run that features the popular Mystery Cruise on Friday morning, Show N Shine on Saturday and Awards Banquet Saturday evening.
Santa Maria is where the run returns to be held at the Santa Maria Inn. Special event rate is $109 or $129/night. Reservations call 805-928-7777. Reservations at this rate until August 1, 2018 only.
Packet includes: Show entry; 1 T-Shirt, Dash Plaque; Goody Bag; Friday morning "Mystery Cruise; Saturday Night Banquet and Awards Ceremony. Cutoff date for mailed in packet money: August 1, 2018. No refunds & No guarantee of free event T-shirt after August 1, 2018
FOR FURTHER INFORMATION, CONTACT:
Email: NoSoRun@gmail.com or Phone - North: Bruce Ledbetter at 530-396-2350 or Randy Ledbetter at 805-598-9150   South: Jim Moore at 951-237-1570
GENERAL INFORMATION:
The "Mystery Cruise" will once again be available on Friday morning with the Famous BBQ Lunch
Friday Night Social poolside at the Santa Maria Inn
 Saturday's Show-N-Shine will be at the Santa Maria Inn.
Event registration at the hotel on Friday or Saturday. Early registration available on Thursday
First a little background- Every once in a while I would see an F1 pickup on theside of the road, in a driveway or parking lot and wondered if the owner would beinterested in selling. Sometimes I even left a note on their windshield with myphone number. I never got a call. Sometime back in 87 I had made a shortcutfrom Winchester over to Pollard on Hacienda and there it was, a 'For Sale' signon a genuine Ford F1. It was in reasonable shape, a little surface rust, notailgate, decent body overall and the price was right. It turned out that it was amid 1950 Ford F1, with an original flathead V8 (that actually ran) and a really lowgeared four speed transmission.
The bed was not bolted down so I had to do a little wrenching before I hit theroad. My wife Roi followed me to make sure I made the eight-mile trip home, itran pretty good but the ride had a lot to be desired. At around 45 it felt like thingswere about to come unglued. I had a plan to make the F1 presentable with anew paint job but I was advised that the little bit of surface rust may causeproblems down the line. I had recently started a new job and did not have a lot offree time to work on the restoration but I did use the truck to haul stuff from HomeDepot and take junk to the dump. Several years past without progress and Ieventually parked it out in the field next to the house. It still ran pretty good but Ihad purchased a new GMC truck in 94' and the restoration project urgency fadedaway.
Fast-forward to 2011...there she was, still sitting where I parked her way back94'. The F1 had actually sunk into the mud and weeds had grown up around her,pitiful. One fine spring day my daughter said she wanted to do a cleanup aroundthe place and asked me what I wanted to do with the now rusty relic in the field.Well, I said, I'm going to restore it! Really, she said and went on to gently remindme that I was running out of time. And, of course, she was right. Thisconfrontation prompting me take a close look at what was now a pretty sad pieceof work. After poking around a bit I figured, what the hell, lets just do it.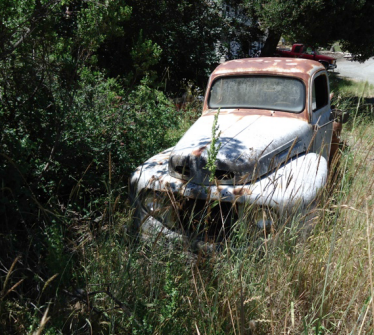 With the help of a couple of friends we hooked a chain to the rear axel and pulledit out of the mud, power washed it, inside and out, and assessed the extent ofdeterioration. It was pretty bad, running boards were shot, all the bed wood hadrotted away, a lot of rust around the bottom of the cab and the ground wasactually visible through the rusted out floor. The fenders and hood were in prettygood shape, a little surface rust, minor work needed to bring them back. The cab,on the other hand, was not so good. At this point I decided to disassemble thebody from the chassis and sandblast all the metal surfaces to get rid of the rustaltogether.
Although I was often encouraged to scrap the whole thing and find a truck inbetter shape I felt that after all is considered I was committed to see this thingthrough. With help from my friends, I hauled the now bare metal body parts to Manual Calara, the owner of a body and paint shop in San Jose specializing inrestoration. This was in July of 2011. Because Manual had a number of projectsin front of me I figured I had about six months to get a chassis ready forreassembly. To bring the original chassis and running gear into the currentmillennium, however, would require significant coin and I wanted a later modelOHV V8, automatic transmission, power steering, power brakes and a bettersuspension in front. After looking at the cost of acquiring the new power plantand trany, beefing up the chassis and purchasing the aftermarket stuff I had anidea. I remember reading about guys putting their early model trucks on newertruck chassis. This would potentially provide better suspension, brakes, and asignificant upgrade in power. Furthermore, to minimize modification of the newchassis I looked to find a vehicle with the same or very close to the samewheelbase.
To make a long story short, I found that the Ford Explorer would fit the bill andwent searching for one that was in good shape and had a V8. I did find a reallygood one from a guy in Boulder Creek, made the deal, brought it home and,again, with help from a couple of friends and a neighbors' lift, removed the body(nine bolts).
So, while the body was undergoing restoration we moved the Explorer chassisinto my shop and began to get it prepared for prime time. Although the engineand transmission were in good shape, the power steering rack had a leak andneeded replacement. While the engine and transmission were off the frame, myfriend and skilled mechanic John Freeman, my daughter Taylor and I teamed upto replace the water pump, painted the chassis, running gear and engine,wrapped all of the wiring and prepared everything for mounting the body. Whilethis work was going on I began to plan how we were going to mount the oldermodel truck body onto a late model truck chassis.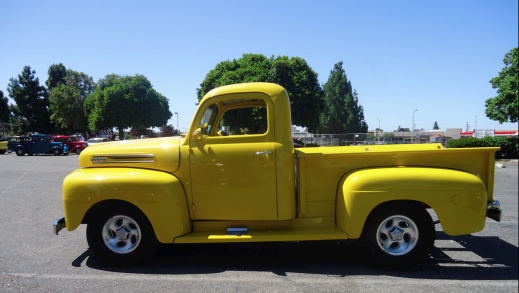 The original chassis is basically two parallel pieces of channel steel. The newerExplorer chassis turned out to be a real challenge. The frame was about threeinches wider and had twist and turns that did not readily accommodateattachment of the F1 body parts. The rear double-hump shock mount crossmember, for example, rose several inches above the frame. In order to avoidencroachment into the bed surface I needed to cut it out and replace it with astraight cross member.
In regard to the bodywork, I checked in periodically to see how it was going.Manual had to do a lot of patching and welding to repair the cab section. Theentire floor needed to be replaced and the driver side cowl area had been caved-in sometime before I bought the truck. The bed panels were restorable but thefront bed panel was pretty bad and needed to be replaced. As it stood, I neededto purchase a new tailgate, front bed panel, front grill, running boards and floorpanel.
The cab restoration was pretty much ready in March 2012 and, with the help ofmy friend John, the chassis was trailered over to the body shop to beginassembly of the now primed body parts. Mounting the cab required some metalfabrication work as well. I designed a channel shaped bracket to support the rearsection of the cab, two 'L' shaped brackets to support the front corners of the caband two double flange brackets to support the rear. Allan Borches, owner of alocal metal shop in San Jose used the drawings I prepared to fabricate of the cabmounting brackets. The forward and rear cab mounting brackets were positionedand welded directly to the outside surface of the frame. The trucks cab wasfinally bolted down onto the brackets using some of the rubber mounting padsfrom the Explorer. With cab in place, the rest of the body parts were assembledonto the chassis and made ready for a return to my shop at home.
While I had the truck back home we were able to complete the wiring, install anew floor mounted power brake unit, hook-up all of the gas and brake lines,transmission shift mechanism, install the new headers and get ready to start theengine. This is a fuel injected engine with sensors all over the place so it took alittle fiddling around to get it to fire but fire it did! The early Mustang shiftmechanism is mounted in a center console that I designed and my daughtermade from half-inch thick birch plywood. The console fit nicely between bucketseats that I had pulled out of my neighbor Jim's older Explorer.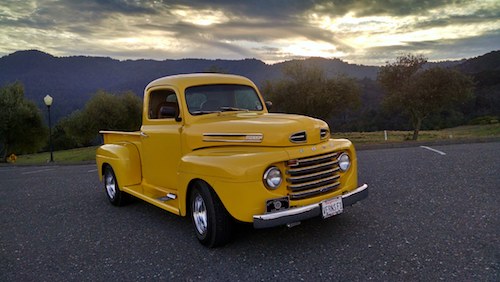 The now road worthy truck was delivered back to the body shop to prep for paint.I thought it was ready for paint when the primer was applied but I was wrong.There was a great deal more sanding and filling and sanding to get it ready forthe shiny yellow paint. All of the body parts were disassembled from the chassisexcept for the cab. While the painting process was going on all of the nowseparated body parts I went ahead and purchased the white oak wood kit for thetruck bed and all the hardware to mount it. My daughter stepped up to prep thewood to a glassy smooth finish, finally applying a glossy marine varnish. My nextproject was to purchase and mount a new rear bumper. Because the explorerframe was about three inches wider than the original I needed to design a specialbracket set to mount the bumper. This bracket resembled a large 'T' with a slightoffset to line up with the existing mounting holes in the bumper. I also designedand fabricated brackets for mounting the new front bumper.
I'm going to cut to the end here... Everybody pitched in to carefully reassemblethe body parts onto the chassis, mount the bumpers, taillights, seats, gas inputunit. My maiden voyage in July 2013 was down to Fred's Wednesday get-together at Scott and El Comino. In the months that followed I had the upholsterydone, installed a stereo system and completed a number of tasks on a lengthyto-do list and drive. A number of people asked me 'how much do you have in it?"I have been advised to not add up all those receipts, at least not for a while.
-Vern Solberg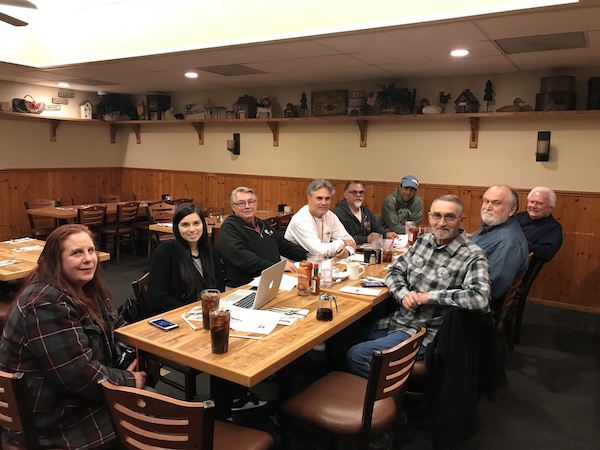 On January 2nd the Silicon Valley Chapter of F-100 Elite held their first meeting of 2018!