| | |
| --- | --- |
| Posted on July 3, 2018 at 10:35 PM | |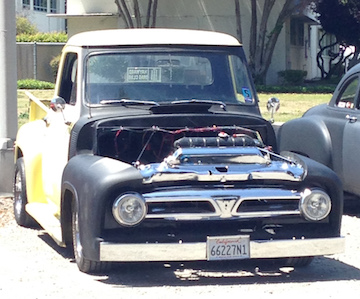 I originally bought my '54 F-100 in 1978 to tow my '57 Chevy to various drag strips. When I bought, it had a camper shell, was painted Ford Blue, had a 302, 9 inch rear end, and a camper shell. I think I paid $1,700 for it. It was an OK hauler, but suffered from front end shimmy, not great brakes, and heavy standard steering.
My initial work on the truck was to solve those problems. The number one problem was the shimmy, which is no fun at 65 MPH with 4,500 of race car and trailer behind you. I looked around and found all kinds of solutions that ranged from welding a piece of angle iron or sliding a metal sleeve over the stock rod and then welding it is place. A drag racing friend came up with what I think is the best solution, if you're going to stick with the shock suspension. He suggested a 1" heavy (1/4" wall) and weld in right and left threaded rod ends. I did it and could take my hands off the wheel at 75 with the race car in tow and all stayed straight.
The next were all old school, Mustang power steering, early T-bird power brake booster. The net results were OK, but not what I really wanted. At that time I started thinking about making some major changes in front suspension.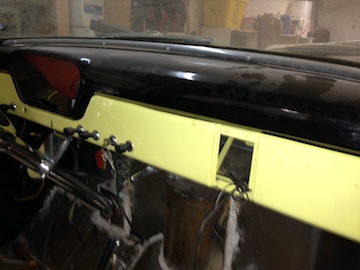 My next steps were all cosmetic. I decided I wanted to paint the truck to match the race car, which included disassembly, body work, paint and re-assembly. I looked around and got various bids. They ranged from $2,500 to $20,000. The $2,500 was from a young man starting his own body shop business. He showed me his car, which he had done and I was really impressed. I realized from the beginning he was too low on the price. Well it took twice as long as the original quoted time, but the end was somewhat a story in itself.
One day I get a call from a young man that worked at the shop to tell me the landlord was going to pad lock the shop in two days. My truck was painted, but completely disassembled. Well I grabbed my car trailer and went over. The basic cab had not been removed, but everything else had been. It took four trips to bring all the pieces home. Now I had a newly painted unassembled truck that I did not disassemble. The fun really began.
Thank God Preston Ledbetter was still in San Jose. I got to know him really well as I brought in parts and asked "what the hell is this?". He also gave me drawings and advise that was of huge value. About four months later it was back together. During this time, I had gone through the 302 and gave it a little help on the HP end. My first long haul with the freshly assembled F-100 was to The Strip on The Strip (Vegas). The engine pulled the Tehachapi pass with no strain. That had not been the case previously.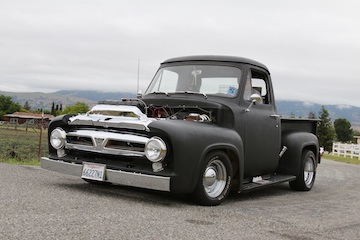 Then a major change happened, My son had turned seven and I had bought a brand new '00 F-150. My son decided he wanted to go quartermidget racing. I decided it was time to put a new front clip under the F-100. That began a series Oh Shit comments. I decided a Chevy 350 was the best small block size, mileage, HP combination. Next I found a '74 Firebird Formula 400 less motor and trans, but a fully rebuilt front subframe with new rotors, pads, and neoprene inserts, for all of $500. First step was selling the Firebird hood, formula 400 hood with dual scoops, for $1,100. I started to locate someone that had done this kind of combination. Asking around I was pointed towards the same person by three people. This is all leading up to why a Camero/Firebird subframe is a terrible choice. I looked around and found a guy that had done a number of front clip swaps on Ford and Chevy trucks. I got the tuck home and went to drop the 350 in when I found the heads hit the firewall a good two to three inches before the engine was over the mounts.
The next step became finding and installing a dropped firewall. Of course that meant cutting out half the floor and all of the firewall. Thanks for a LOT of help from my good friend, Jon Hylbert. In a matter of two weeks we had the old metal out and the new metal in. Finally ready to drop the engine in. In it went except when I looked at the installation of the distributor, I realized the firewall lined up exactly over the opening for the distributor in the engine. So out came the engine and some head scratching began, Another friend that has a sheet metal shop made me half of an very large coffee can. A bit more trimming and wow, I had a spot for the distributor. The rest for the build ran into the normal build issue with the exception of one pretty major item Had the truck running and took it to be aligned, and low and behold it has 10* of negative caster. Not good, not good at all. Turns out when the guy who installed the sub-frame, it ended up tilting down. I have a solution, but it is expensive and a bit complicates. In the meantime I put the absolute maximum number of shims in the front of the upper A frame and none in the rear. At least it is steerable.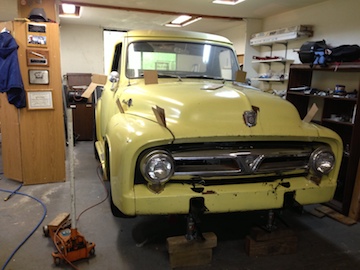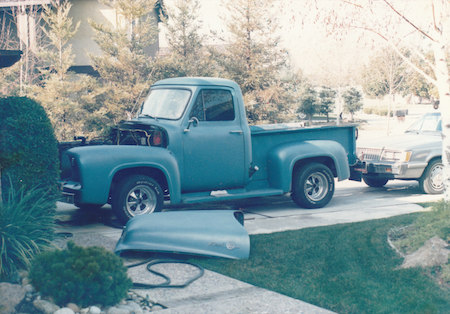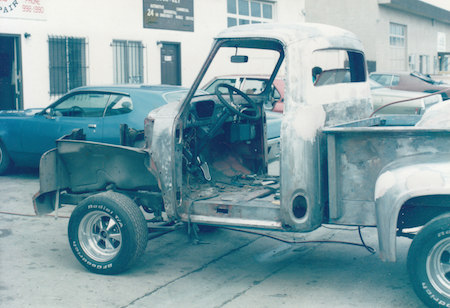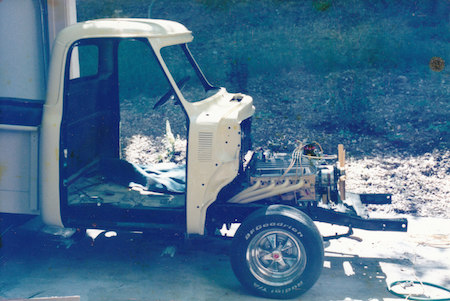 That's all folks. At least for now! 
-Don Rector
Categories: None